Butter
Traditionally Welsh Butter is salted and it is recognised that Welsh palettes are traditionally more 'salty'. Legend states that as the Welsh economy was founded on mining and agriculture, salty foods were used in the diet to replace nutrients lost due to heavy manual work.
To make exceptional butter, you must first start with a good quality cream base. At South Caernarfon Creameries, our milk has been consistently recognised as higher quality than the national average – thanks to our lush green Welsh pastures and significant rainfall – so we know that our member farmers' locally produced Welsh milk provides the perfect key ingredient. To ensure that our Welsh butter is made as authentically as possible and to replicate traditional production methods, South Caernarfon Creameries uses a traditional butter churn.
The cream is churned and once the butter is formed, it is delicately flavoured with Salt to enhance the flavour and make it 'traditionally Welsh'.
South Caernarfon Creameries: Welsh Dragon Butter produced and packed in Wales.
Our Butter Range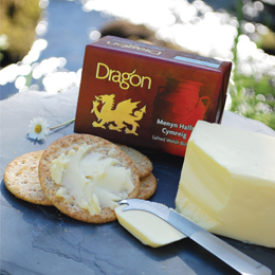 Dragon Salted 250g Butter
South Caernarfon Creameries' Welsh Salted Butter is packed into traditional 250g 'half pound blocks'. We pack in our Dragon brand which has distinctive Welsh packaging and we have the flexibility to contract pack in own label packaging for major stores or supermarket chains.

Bulk
For food manufactures who want to buy Welsh butter in bulk, South Caernarfon Creameries is able to supply wholesale bulk butter in 25kg boxes. Ideal for wholesalers, food manufacturers, contract caterers and food service companies who look to purchase high quality butter.

Private Label
As well as having our own acclaimed brand in Dragon, we also pack private label for some of our key retail partners.
We have extensive experience in this field and have the flexibility and capability for any retailer looking for a private label welsh butter.